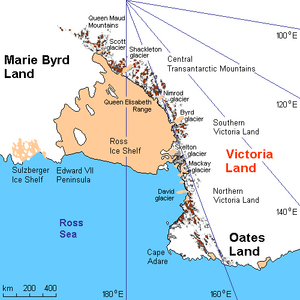 Cape Adare is the north-easternmost peninsula in Victoria Land, East Antarctica. Marking one end of the Borchgrevink Coast, the cape separates the Ross Sea to the east from the Southern Ocean to the west, and is backed by the high Admiralty Mountains. Cape Adare was an important landing site and base camp during early Antarctic exploration. Largely because of its historical associations and relics, especially the historic huts of Borchgrevink, and of Scott's Northern Party, and their precincts, the site is protected under the Antarctic Treaty System as Antarctic Specially Protected Area (ASPA) No.159. Off the coast to the northeast are the Adare Seamounts and the Adare Trough.
Appearances in Fanfictions
Edit
Here are all the fanfictions that this location makes an appearance in that are on this wiki:
Ad blocker interference detected!
Wikia is a free-to-use site that makes money from advertising. We have a modified experience for viewers using ad blockers

Wikia is not accessible if you've made further modifications. Remove the custom ad blocker rule(s) and the page will load as expected.