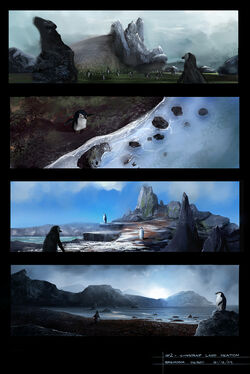 Chinstrap-Land is a place and a home to Chinstrap Penguins that appears as the 10th episode of Happy Feet Saga.
More Information
Edit
Appearances in Fanfictions
Edit
This home was mentioned in The Story of The Five Amigos 2 when there 3 penguin species that are poor lost their homes by a earthquake and a male chinstrap penguin said, "We lost Chinstrap Land and we need a home to find Fluffy Boy".

But in Happy Feet Saga, it was reveal that the place was alive and there new chinstrap penguins living there.

In the 0.5 continuity, there is no Chinstrap Land, due to the Chinstraps being a gypsy-type group of penguins.
Ad blocker interference detected!
Wikia is a free-to-use site that makes money from advertising. We have a modified experience for viewers using ad blockers

Wikia is not accessible if you've made further modifications. Remove the custom ad blocker rule(s) and the page will load as expected.