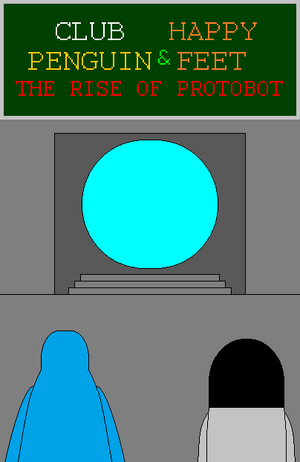 Club Penguin And Happy Feet: The Rise of Protobot (also known as Club Penguin And Happy Feet The Crossover 3) is a fan-fiction crossover story written by MarioFan65. It is a sequel to Club Penguin And Happy Feet The Crossover 2. The story focus on Bambadee and Mumble traveling to dimensions to stop a evil prototype robot from many years from destroying dimensions. It was released on June 5th 2015.
Description
After the events of Club Penguin And Happy Feet The Crossover 2, Herbert plans to get revenge on Mumble, when he recreated Protobot since he was destroyed in the Marvel Super Hero Takeover 2013. But, Protobot started going on a rampage across dimensions and timelines. Can Mumble and his friends stop him until Club Penguin Island get destroy in time?
Characters
Gary the Gadget Guy
Rookie
Jet Pack Guy
Penguin Band
Smulley
Suneroo
RodgerRodger
DanielD
Gary 3000
EPF Director
Joe (T.V screen only)
Plok
Protobot (the main antagonist)
Herbert P. Bear (the secondary antagonist)
Klutzy
Shard Penguins
Test Bots (flashback)
Chapters
Behind the Scenes
Trivia
This is the first Club Penguin and Happy Feet crossover story with a special logo.
The story is based on the Future Party 2014 of Club Penguin.
This is the last story where Bambadee is the main protagonist. The next story Club Penguin And Happy Feet: The Lost Master will feature Roofhowse as the main protagonist as Bambadee will be a supporting character like Gary.

But still, Bambadee will be the main protagonist in the all-star penguin crossover story Penguin Legends.
Ad blocker interference detected!
Wikia is a free-to-use site that makes money from advertising. We have a modified experience for viewers using ad blockers

Wikia is not accessible if you've made further modifications. Remove the custom ad blocker rule(s) and the page will load as expected.