Everything out there is Fandom

This story is a fanfiction, meaning it is a theory of what might have or might happen. You might be surprised of the authors point of view.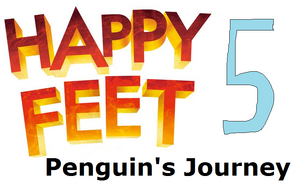 Not to be confused with MegalexMaster's story Happy Feet 5: Titanic Forces.
Happy Feet 5: Penguin's Journey (also known as Happy Feet Five in Japan) is a upcoming fan-fiction written by MarioFan65. It is a sequel to Happy Feet Four.
Characters
Edit
Description
Edit
After the events of Happy Feet Four, Mumble and his friends are planing to go on vacation and when they leave Antarctica to explore some cool places, Alpha Skua wants his revenge on Mumble and Ramón (about what they did to him since The Story of The Five Amigos) and he is tired of his defeats and he send his friends to leave Antarctica and find the penguin species group so they can steal a chick and will Mumble and his friends stop Alpha Skua?
It is the first Happy Feet film to feature a title and a number insited of using a number letter like Two.
Ad blocker interference detected!
Wikia is a free-to-use site that makes money from advertising. We have a modified experience for viewers using ad blockers

Wikia is not accessible if you've made further modifications. Remove the custom ad blocker rule(s) and the page will load as expected.