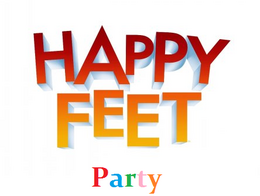 Happy Feet Party
is a fan-made game based on a board game and inspired by the
Mario Party
series. Players choose one of six characters and move around the board. As they go around, they collect lovestones and various other items that can help them or hinder others in their quest to collect Hearts.
What sets this game apart from others is the mini-games that follow each round. The players will be grouped together in groups of two, three against one, or everyone for themselves. They then compete in a game that tests their reflexes, puzzle solving skills, or plain luck. The winners will be awarded coins and the losers may lose coins.
Playable Characters
Boards
This game has over eight game boards.
Map Difficulty: Easy
Penguin-Land is the emperor penguin's new home after the Doomberg smashed their old home, Emperor-Land. Players aim to collect Lovestones in order to locate the mysterious treasure that is locked away in a thousand of years (since this land started when Club Penguin And Happy Feet The Crossover first started as the first Happy Feet Fan-Fiction by MarioFan65). Four Groupies are guarding the junctions; to pass, a player must pay ten Lovestones. Landing on a Happening Space triggers a rolling snow boulder which in turn chases down any players standing in its way all the way to the path near the start of the board. If a player happens to meet Alpha Skua on this board, they are "awarded" a useless Golden Boss Skua Statuette and are forced to pay him ten lovestones.
More boards coming soon.
Trivia
This is the third Happy Feet game to feature Lorry Rickerson as a annoucer, the first being the Happy Feet Racing series.
Ad blocker interference detected!
Wikia is a free-to-use site that makes money from advertising. We have a modified experience for viewers using ad blockers

Wikia is not accessible if you've made further modifications. Remove the custom ad blocker rule(s) and the page will load as expected.