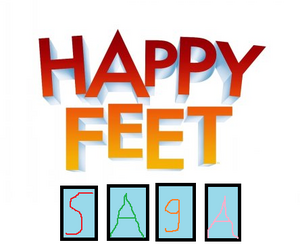 Happy Feet Saga is a fan game released in 2013 (Europe) and 2014 (Worldwide) for Facebook and smartphones. This game is a Happy Feet themed game and it is made by King (who also did many games like, Candy Crush, Pet Rescue, and much more).
NOTE: This page is not free to edit.
Gameplay
The game is a variation of "match three" games such as Bejeweled. Each level has a different shaped grid filled with music notes of three to six different colors and sometimes obstacles. The basic move of the game consists of swapping two music notes' positions to align sets of three of the same color, whereupon they disappear, causing music notes above them to collapse into the space left behind, often resulting in chain reactions. Moves and alignments must be horizontal/vertical. The level's objectives must be met before the player runs out of moves (or time on timed levels); in each case, the player must earn enough points to get the first star (out of 3) in the scoring system.
Episodes
Characters
Mumble: is the main character of the game. He is a emperor penguin who can't sing but he can do a "tap-dance" called "Happy Feet". He walks the player through the tutorial & will introduce the "Broken Notes Drop Levels". He travels around the game map, and helps others with their problems.
Erik: The helper that gives you some tips.
Trivia
The map on Happy Feet Saga is looks like a board game.
Ad blocker interference detected!
Wikia is a free-to-use site that makes money from advertising. We have a modified experience for viewers using ad blockers

Wikia is not accessible if you've made further modifications. Remove the custom ad blocker rule(s) and the page will load as expected.