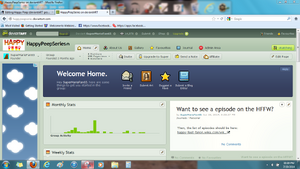 Happy Peep (known as HappyPeepSeries) is an deviantART group created in March 25, 2014.
As of November 14, 2014, a episode section for Happy Peep Short Stuff has been added.
A episode section for The Esequiel, Montay, Shippo & Josesito Show is also added.
Description
Welcome to the Happy Peep official page, it is about the Happy Feet spin-off show Happy Peep as you can contribute by putting your Happy Feet OC to the show.
Members
NewMarioFan65/SuperMarioFan65 (founder)
Penguin-Lover/Bird-Lover25/Tickle-Lover1 (co-founder)
Laserdanb (co-founder)
See also
External links
Gallery
Ad blocker interference detected!
Wikia is a free-to-use site that makes money from advertising. We have a modified experience for viewers using ad blockers

Wikia is not accessible if you've made further modifications. Remove the custom ad blocker rule(s) and the page will load as expected.