Everything out there is Fandom

This story is a fanfiction, meaning it is a theory of what might have or might happen. You might be surprised of the authors point of view.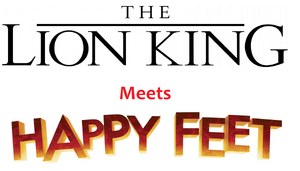 Lion King and Happy Feet: A Pride Tale is a upcoming 2017 fan-fiction project and a crossover between The Lion King and Happy Feet. This story is written by MarioFan65.
Characters
Edit
Happy Feet Cast
Edit
Raphael
Amigos
Estevan
Elian
Seymour
Atticus
Bo (Boadicea)
Miss Viola
Mrs. Astrakhan
Terry the Penguin
Mary
Ashley
Edwin
Dorcena
Lauren
Noah the Elder
The Elders
The Great 'Guin (seen in spirit)
Bill and Will
Boss Skua
Vinnie
Frankie
Dino
Francesco
Brokebeak
Skua Pack
The Lion King Cast
Edit
Simba
Nala
Kiara
Kion
Bunga
Fuli
Beshte
Ono
Mufasa (seen in spirit)
Sabini
Leo
Mega
Ngawa
Babu
Boga
Pridelanders
Shenzi
Banzai
Ed
Janja
Chungu
Cheezi
Shriek
Asante
Fisi
Jasiri
Timon
Ma
Uncle Max
Pumbaa
Monti
Bampuu
Fred
Mody
Dacey
Laurel
Timon's Colony
The Great Spirit
Pimon and Tumbaa (mentioned)
Chapter 1: The Circle of Life
Chapter 2: Africa
Chapter 3: Trouble in the Outlands
Chapter 4: TBA
Chapter 5: TBA
Chapter 6: TBA
Behind the Scenes
Edit
Main article: Lion King and Happy Feet: A Pride Tale/Behind the Scenes
Ad blocker interference detected!
Wikia is a free-to-use site that makes money from advertising. We have a modified experience for viewers using ad blockers

Wikia is not accessible if you've made further modifications. Remove the custom ad blocker rule(s) and the page will load as expected.