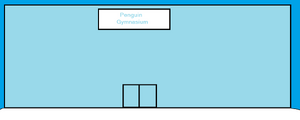 The Penguin Gymnasium is a ice building and a place where penguins can exercise. There is also a swimming pool for the swimming classes and there is a jacuzzi where older penguins can relex. It did not make an appearance in Happy Feet Fan-Fictions yet.
Here all of the stage themes that appears in MarioFan65's fan game, Happy Feet Battle Royale.
Rock That Body by The Black Eyed Peas
Stronger by Kanye West
Stronger by Kelly Clarkson
Places of Interest
Edit
Welcome Center: A place where you can sit and relax and this is for checking to go and do exercises.
Penguin Daycare: A daycare where Baby Penguins go and a adult could also help the baby penguin to do stuff. Baby Penguins can play with toys, draw, and have fun at the playground-like building.
The Pool: A big pool that is used for swiming. It can also be used for the swiming classes.
The Jacuzzi: Coming Soon.
Ad blocker interference detected!
Wikia is a free-to-use site that makes money from advertising. We have a modified experience for viewers using ad blockers

Wikia is not accessible if you've made further modifications. Remove the custom ad blocker rule(s) and the page will load as expected.