THIS ARTICLE IS ABOUT A LOCATION.
Make sure that you are adding information worth mentioning!
If you want others know that this character, location, item, and any other appears in someone's fan-fiction, please, at least use a few sentence to describe it in the
Appearances in Fanfictions
section!
For the species pages, they will only have to use the section Fanon (Species Name) on this Wiki. Like this on the right: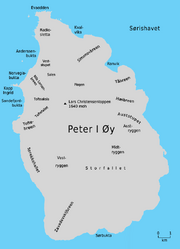 Peter I Island
is an uninhabited volcanic island in the Bellingshausen Sea, 450 kilometres (280 mi) from Antarctica. It is claimed as a dependency of Norway, and along with Queen Maud Land and Bouvet Island comprises one of the three Norwegian dependent territories in the Antarctic and sub-Antarctic. Peter I Island is 11 by 19 kilometres (6.8 by 12 mi) long and 156 square kilometres (60 sq mi). The tallest peak is the ultra and 1,640-meter (5,380 ft) tall Lars Christensen Peak. Nearly all of the island is covered by a glacier and it is surrounded most of the year by pack ice, making it inaccessible almost all year round. There is little life on the island, although there are some marine birds, such as southern fulmars, and seals.
Appearances in Fanfictions
Edit
Here are all the fanfictions that this location makes an appearance in that are on this wiki:
Ad blocker interference detected!
Wikia is a free-to-use site that makes money from advertising. We have a modified experience for viewers using ad blockers

Wikia is not accessible if you've made further modifications. Remove the custom ad blocker rule(s) and the page will load as expected.