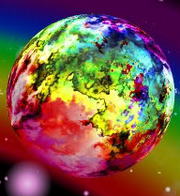 Rainbow Planet is a large planet located in Rainbow World and appears in the last course of Special Cup in MarioFan65's fan game, Happy Feet Racing 3.
The track is based on top on a planet. In this track, it have a rainbow road, you drive on the rainbow. And you need to be careful, because there is no rails in this track and it could make you fall.
The theme for this track is
Rainbow Planet, from BowieZ's fan made Mario Kart music.
And the reason that he gave this track a theme, because, he think the theme's for this track was amazing for a planet.
In the start section, you can see King Rainguin as he is on the royal chair with a lot of rainbow penguin fans.