THIS ARTICLE IS ABOUT A EVENT.
Make sure that you are adding information worth mentioning!
If you want others know that this character, location, item, and any other appears in someone's fan-fiction, please, at least use a few sentence to describe it in the
Appearances in Fanfictions
section!
For the species pages, they will only have to use the section Fanon (Species Name) on this Wiki. Like this on the right: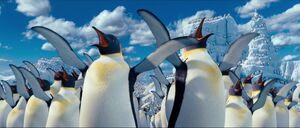 The Opening Medley
is a ceremony and a party performed on the emperor penguins by
Gloria
as they are part of the Rhythm Nation. This is where the song "
Happy Feet Two Opening Medley
" take place in.
Participants
Appearances in Fanfictions
Here are all the fanfictions that this event makes an appearance in that are on this wiki: