Everything out there is Fandom

This story is a fanfiction, meaning it is a theory of what might have or might happen. You might be surprised of the authors point of view.
"Hola Amigo, this is no sequel."
―Movie tagline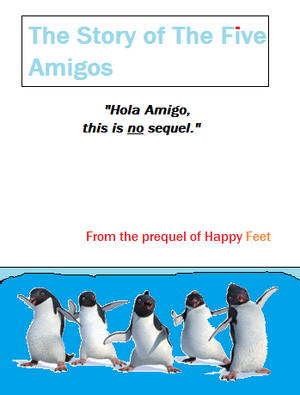 The Story of The Five Amigos (also known as Happy Feet One And A Half in Japan or Happy Feet: The Story of The Five Amigos in other countries) is an fan-fiction written by MarioFan65. This story is a prequel and midquel to Happy Feet. It was released on March 28, 2013.
NOTE 1: If you wish to learn more of the story, click here.
NOTE 2: This page is not free to edit.
Characters
Chapters
Production
In January 2013, MarioFan65 planned to work on a new fanfiction story that focus on Ramón's backstory. One month later, the Amigos would get their own story titled The Five Amigos, but later changed to "The Story of The Five Amigos" for the better title of the story.
Deleted Scenes
Trivia
Expanded franchise
Sequels
The series has two sequels which included The Story of The Five Amigos 2 and The Story of The Five Amigos 3.
Prequel
The series included a prequel The Beginning of The Five Amigos and released on 2015.
See also
Gallery
Ad blocker interference detected!
Wikia is a free-to-use site that makes money from advertising. We have a modified experience for viewers using ad blockers

Wikia is not accessible if you've made further modifications. Remove the custom ad blocker rule(s) and the page will load as expected.