Everything out there is Fandom

This story is a fanfiction, meaning it is a theory of what might have or might happen. You might be surprised of the authors point of view.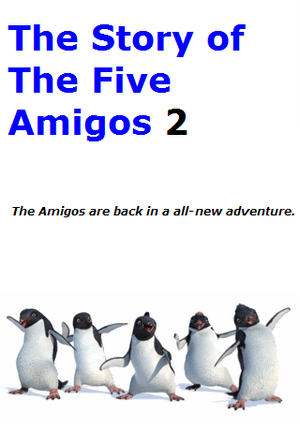 The Story of The Five Amigos 2 (or Happy Feet: The Story of The Five Amigos 2 in other countries) is a fan-fiction by MarioFan65. It is a prequel to Happy Feet Two and the sequel to The Story of The Five Amigos.
Characters
Chapters
Production
This story was originaly going to be about a prequel, midquel and a parallel story of Happy Feet Two when everyone is celebrating their new home but when the Doomberg arrives, their homeland was cracking apart and the plot was scapped for some reasons due to many scenes that have blood on the ice. Now, the real plot is going to be about Rimon's lost father and the Amigos with their colony have to save him until it's too late.
The scapped plot is now going to be Sven's backstory when he first went to Adélie-Land and discovering about his task to be a brave puffin. The plot is moved for Happy Feet: The Series Episode 34.
Trivia
Adélie-Land from Happy Feet Two is known as New Adelie-Land.
This is MarioFan65's second fan-fiction to feature real food after Club Penguin And Happy Feet The Crossover.
In this story, Estevan is known as Estavon.
Burger King and Yogurtland are reference in this story.
Baby mommies are mentioned when Lovelace sings during "You Gotta To Stay! Stay! Stay!".
At the end of the story, it shows how the Amigos changed their life and started a new one before the events of Happy Feet Two after Ramón's family and friends left for Cape Adare.

And Carmen is not included in the story before Ramón and Carmen first met.

This story has a little bit of characters but in the first one, there's a lot.
See also
Gallery