Everything out there is Fandom

This story is a fanfiction, meaning it is a theory of what might have or might happen. You might be surprised of the authors point of view.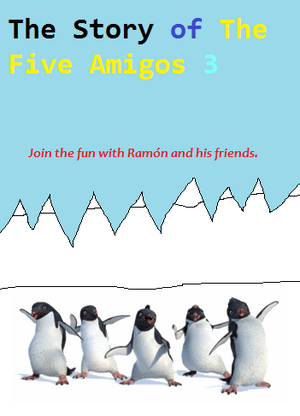 The Story of The Five Amigos 3 is a fan-fiction written by MarioFan65. This story is a prequel, parallel story, and midquel to Happy Feet Three and the sequel to the animated story hit, The Story of The Five Amigos 2. It was released on January 8, 2017.
Characters
Edit
Chapter 3: Back to Cape Adare
Production
Edit
On December 2013, MarioFan65 announced to make a prequel to his Happy Feet Three story, focusing on the Amigos when they first met the Polar Bear Squad. It was set for a 2014 release until moved to a 2017 release.
Characters from Happy Feet Three will make a return in this story.
After the real Happy Feet Three movie comes, a remake will not be incluled but there will be a prequel to the real one soon during the future.
Unlike the first two stories, it features a lot of characters than from the first one, but the second one has a little bit.
This is the first The Story of The Five Amigos story with a style of the Mystery Science Theater 3000 when a character in silhouette commenting on the movie being shown, similar to The Lion King 1½.
This is Bill and Will's first appearance in The Story of The Five Amigos series but as cameos during the story.
This is the third time to feature King Polar as the main antagonist, the first two was, Happy Feet Three (MarioFan65's Version), and The Story of Terry the Penguin.