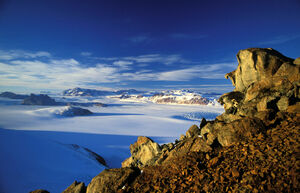 The Transantarctic Mountains (abbreviated TAM) comprise a mountain range in Antarctica which extend, with some interruptions, across the continent from Cape Adare in northern Victoria Land to Coats Land. These mountains divide East Antarctica and West Antarctica. They include a number of separately named mountain groups, which are often again subdivided into smaller ranges.
Description
Edit
Ad blocker interference detected!
Wikia is a free-to-use site that makes money from advertising. We have a modified experience for viewers using ad blockers

Wikia is not accessible if you've made further modifications. Remove the custom ad blocker rule(s) and the page will load as expected.